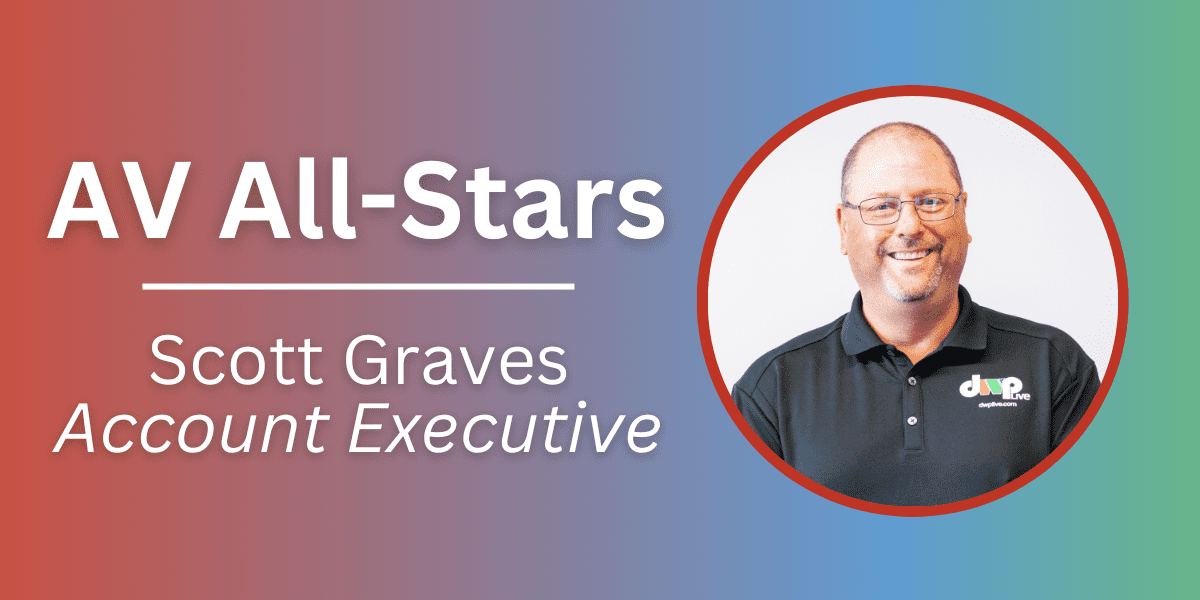 At DWP Live, we pride ourselves on our experienced team members who are dedicated to bringing our clients' visions to life. As our talented team of professionals grows, we are excited to introduce our newest team member, Account Executive Scott Graves.
Scott brings 35 years of industry experience and knowledge to our team and has a great talent for building meaningful relationships in the audio visual community. He attended Nashville State Community College where he earned an audio visual degree and recently joined DWP Live as an account executive. In this role, he is responsible for building and growing client relationships. We are excited to see how Scott will help us continue to deliver the best solutions to our customers. Continue reading to learn more about Scott and his journey that led him to DWP Live and please help us welcome him to the DWP team.
Interested in connecting with Scott? Reach out to him at scott.graves@dwplive.com or call him at (615) 653-6258. 
---
What is the most important aspect of your role in the live event production industry?
Staying up-to-date on the latest technology for our clients is a must. There are constant advancements being made to gear and integration technology, which makes it critical to stay informed as the industry evolves.
What drew you to the DWP team?
I had the pleasure of working with DWP as a client for years and got to know the team well. Our personalities and work ethics mesh, which made joining the team a seamless transition.
What does DWP bring to the industry that nobody else does?
DWP's superior client service and extensive industry knowledge is unmatched. One of our team's core values is our motivation and willingness to go "over the top" for our customers. As a result, we've helped a range of clients create memorable experiences in diverse venues and places around the country and beyond.
What is the best career advice you've been given?
The best career advice I've received is to never stop searching until you find the correct answer and always take care of the customer. They are the future of your company.
What do you find most exciting about the audio-visual industry?
This industry is fast-paced and continuously evolving, especially with new developments in innovation integrations and premium gear. I always look forward to learning what's coming out next.
What do you find most important when building industry/client relationships?
Having a company that will stand with you 100% is one of the most important aspects of relationship building. This ensures every detail will be taken care of to create flawless events.
What advice would you give to your younger self?
I would tell my younger self to always believe in myself and do the best job possible, no matter what.
What's your favorite way to spend a day off?
I enjoy spending my time doing just about anything outdoors such as boating, riding motorcycles or fishing.
What three words describe you best?
The three words or phrases that best describe me are committed, trustworthy and quick to laugh.