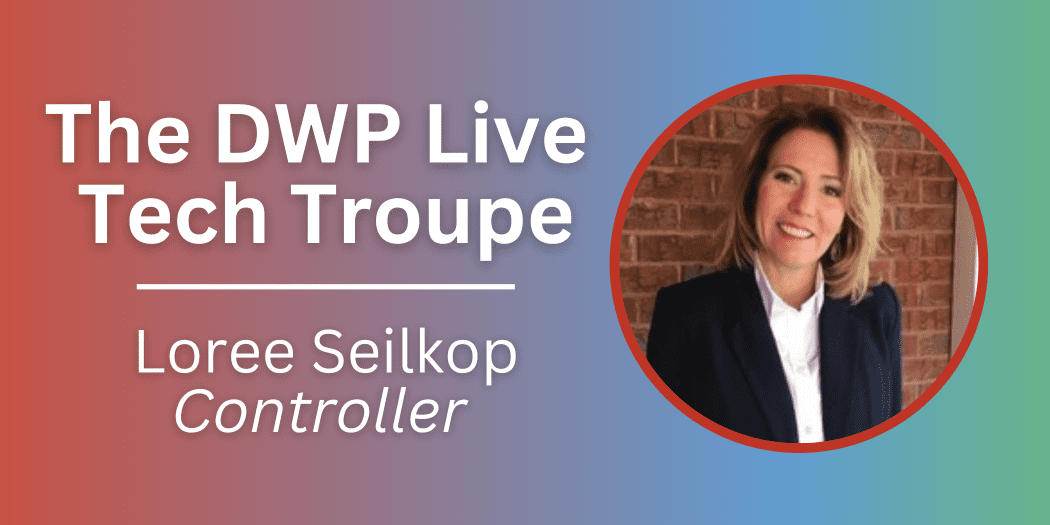 At DWP Live, we pride ourselves on our team's range of expertise and dedication to making our clients' visions come to life. To show off the incredible members of our DWP Live Tech Troupe, we're sharing a behind-the-scenes look at the people who help us deliver the best solutions and events across the world. Meet our first feature: Loree Seilkop, controller at DWP Live!
Loree attended Clemson University where she earned a degree in accounting and began her career in Nashville as a bookkeeper for small CPA clients. Through this work, she was introduced to DWP Live and eventually transitioned to working with us exclusively in 2012. With over a decade of experience, Loree ensures that DWP's financial "back of house" is running smoothly so we can continue delivering the best for our customers.
We recently sat down with Loree to learn more about her role, what she enjoys most about being part of the DWP team, the best live event she's attended and more.
What do you think is the most important aspect of your role in the live event production industry?
The events industry is constantly evolving, which requires routine evaluation of profitability with each revenue stream to appropriately pivot when needed.
What do you enjoy most about working at DWP?
I immensely enjoy our entire team and their strong work ethic, but I especially appreciate our founder, Danny Whetstone, and how hard he works to make DWP successful for not only our team but the partners and customers we serve across the country.
What does DWP bring to the industry that nobody else does?
DWP has an "all in" approach to each project, from the top down. Whether they are simply assisting with rental needs or collaborating on a large integration project, the DWP team is a partner from beginning to end, no matter the size of the task.
What do you find most rewarding about your job?
The most rewarding aspect of my job is feeling like I am contributing to the overall success of DWP. We have been a successful and growing business for over 15 years, and although I haven't been there for the full journey, I am honored to be a part of a team who does such incredible and meaningful work.
What's one of the best live events you've seen and why?
There have been so many, but I would say the 50th Anniversary of the Apollo Launch at the Washington Monument was a particularly amazing event. In 2019, our team was engaged to recreate the rocket's launch on the Washington Monument with an immersive projection-mapping program. We combined full-motion projection-mapping artwork on the monument and archival footage to tell the story of the first moon landing. I am so grateful to have been able to experience this special project in person and see the incredible work our team does up close!