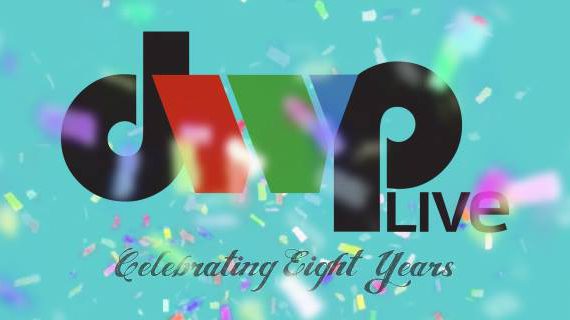 On October 15th, DWP Live celebrated its eight-year anniversary as a company. As we recognize this milestone, let's look back to how it all started with Danny and Marilyn Whetstone.
A 20-year veteran of the entertainment industry, DWP Live Owner and President Danny Whetstone began his career in 1995 as a production assistant for High Five Entertainment working on the CMT production, "Monday Night Concerts." Shot at the Ryman Auditorium and featuring country music icons such as George Jones and Elvis Costello, Danny learned the ins and outs of the production world through this first gig. In 1997, Danny set out on his own as a freelance projectionist, initially working on the Fruit of the Loom Country Comfort Tour that featured Hank Williams, Jr., Travis Tritt, Charlie Daniels and Jo Dee Messina. For the next 14 years, Danny toured the world with top musicians as Gwen Stefani, Amy Grant, Bon Jovi, TOOL, Sting, Red Hot Chili Peppers and Keith Urban; and worked with corporate partners MTV, EMI, ESPN, Lockheed Martin, Ozzfest, Arista, TNT, MusiCares, J Records, General Dynamics and RCA.
With two young kids at home and a strong desire to get off the road, Danny and his wife Marilyn started DWP Live in 2007 from their garage. From the get-go, Danny and Marilyn treated their employees like family and built client relationship on a foundation of trust and integrity. In September 2009, Danny and Marilyn started buying their own gear and DWP Live became a competitive force to be reckoned with in the video production industry. Rick Boot also joined the team as a general partner.
In 2010, DWP Live hired its first full-time employee; started to build a network of freelance projectionists; and moved out of Danny and Marilyn's garage and into its first warehouse and office in Smyrna, Tennessee. Today, DWP Live has 25 full-time staffers and an extensive team of freelance programmers, engineers, producers, projectionists and technicians. The company has continued to grow its footprint in the Nashville area, and it maintains an office in Los Angeles. [Best_Wordpress_Gallery id="1″ gal_title="DWP 8 Year Anniversary Blog Post"] DWP Live got its "big break" on the world stage in 2012, helping to produce the halftime show for the 2012 Super Bowl and Beyonce's "I Was Here" music video inside the United Nations' General Assembly Hall for World Humanitarian Day. This year, DWP Live has been an integral part of many high-profile events, including the papal visit to Philadelphia for Festival of Families and the global launch of the UN's Global Goals for Sustainable Development in New York City. What's next for DWP Live? We will continue to grow and broaden our market, stocking enough variety to cover a range of client needs. For example, earlier this month we added the Christie name to our projector inventory. Happy anniversary, DWP Live!