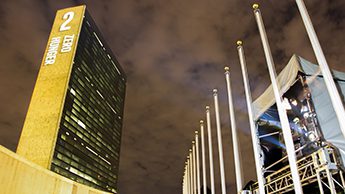 DWP Live's Projection Systems Play Critical Role in United Nations' Global Goals Launch
Middle Tennessee-based video production and projection mapping company, DWP Live, played a critical role in last week's launch of the United Nations' Global Goals for Sustainable Development.  
The weeklong celebration and humanitarian awareness campaign featured a projection mapping piece on the UN's New York City headquarters, which was filmed and used as part of the coverage of Saturday's Global Citizen Festival. London-based animation and projection design company, 59 Productions, designed and produced the projection mapping piece, calling on DWP Live to project the content.
   The UN's 'Global Goals' are a series of ambitious targets to end poverty, fight inequality and tackle climate change for everyone by 2030. According to the initiative, if the goals are met, they ensure the health, safety and future of the planet for everyone on it. Projected on the north tower and general assembly wall of the UN headquarters Monday and Tuesday last week, the 10-minute animated show introduced each of the 17 Global Goals, presenting them in an accessible and visually exciting way. The piece used DWP Live's d3 4×4 Pro VFC-equipped media servers and 16 Barco HDF W30 and 20 Barco HDX W20 projectors. DWP Live owns one of North America's largest inventories of media servers and projectors.
   This event marked the world debut of d3 Technologies' new Video Format Conversion (VFC) output card. "DWP Live is the first video production company in the world to use this new technology for a live event. It reduces production cost, rack space, set-up time and complexity," said Ben Ryle, DWP Live's chief technology officer. "We equipped four of our d3 4x4pro machines to work with the newly designed card." "Condensing the 17 global initiatives into a short piece of visual animation was rather tricky, and it took almost a year to develop the show," explained Leo Warner, Creative Director of 59 Productions. "We chose to illustrate each goal in three stages: an impression of the problem; the goal in action; and a desirable outcome. In that sense, each of the 17 animations is an individual story with its own beginning, middle and end. The piece features a vast amount of 3D modeled animation, 2D graphical content and live action green-screen footage." The projection mapping was filmed and included in Saturday's Global Citizen Festival, which drew 60,000 people to Central Park's great lawn, and included performances by Pearl Jam, Beyonce, Ed Sheeran and Coldplay. Stephen Colbert, Salma Hayek Pinault, Deborra-Lee Furness and Hugh Jackman, Kerry Washington and Olivia Wilde hosted the event. "This particular piece was a giant public display that was seen by the public in New York, delegates and UN staff, as well as television and online audiences worldwide. It's an event that we're humbled and proud to be a part of," said DWP Live President Danny Whetstone. "Projection mapping is the core of our business. It's a technology that can bring people of every culture and age group together, which is just what this global event required." The Global Goals launch week came about through a partnership with Global Citizen, a content, events and campaigning platform for the movement to end extreme poverty by 2030 and Project Everyone. Project Everyone is the brainchild of Richard Curtis, a filmmaker and founder of Comic Relief. The goal of Project Everyone was to share these goals with all seven billion people on the planet over the course of a week. "As a company that's rooted in projecting larger than life shows to capture the imaginations of the biggest audiences, we agree with Project Everyone's belief that the UN's Global Goals have best chance of being met when everyone on the planet is aware of them," said Rick Boot, DWP Live's general partner. "We're honored to play our small part in helping the world achieve these goals." Last Friday, 193 world leaders and UN members voted Friday to commit to 17 Global Goals, which are:
No poverty

Zero hunger

Good health and well-being

Quality education

Gender equality

Clean water and sanitation

Affordable and clean energy

Decent work and economic growth

Industry, innovation and infrastructure

Reduced inequalities

Sustainable cities and communities

Responsible consumption and production

Climate action

Life below water

Life on land

Peace and justice strong institutions

Partnerships for the goals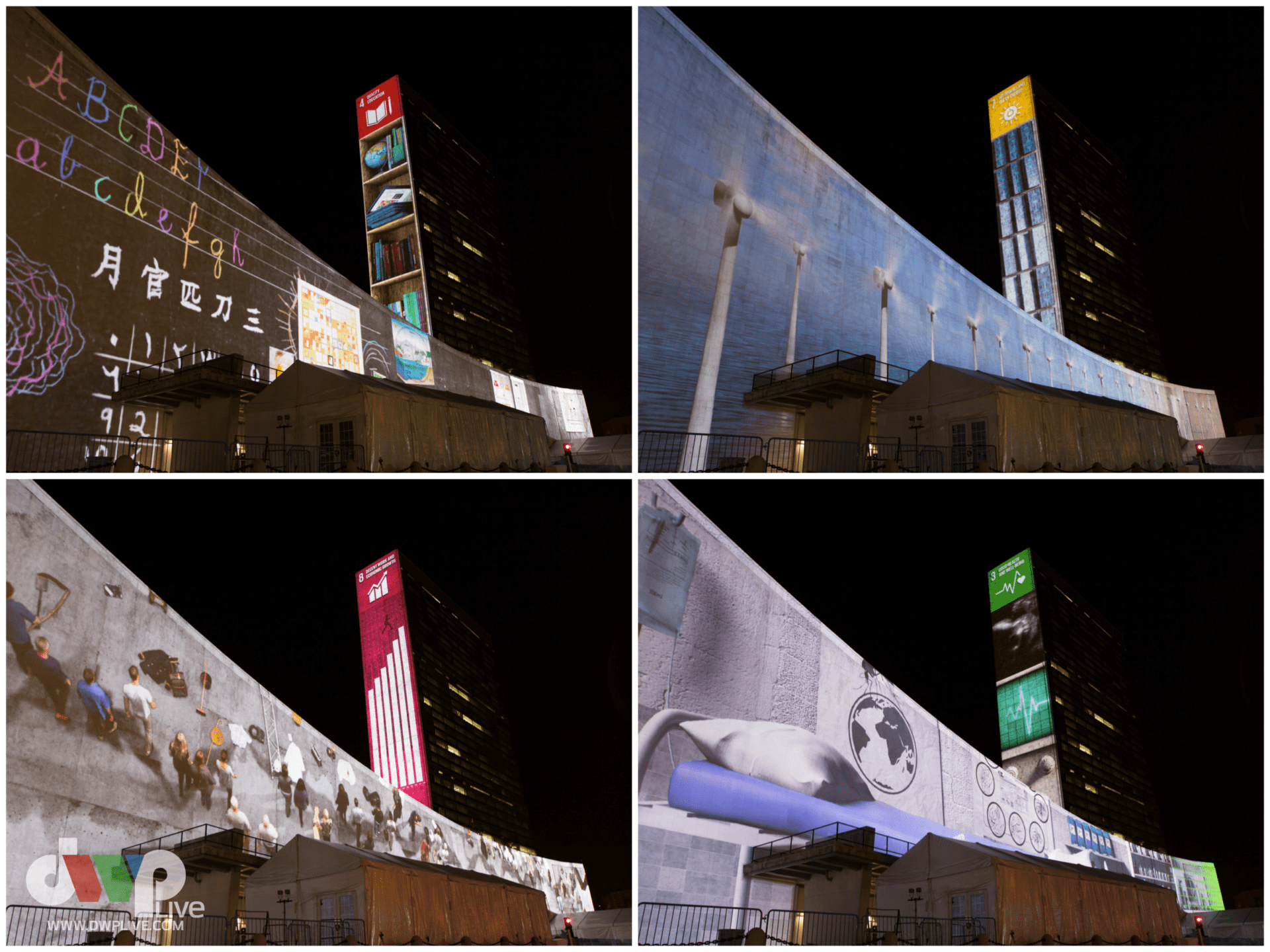 To learn more about Project Everyone, find the movement on Facebook, Twitter and Instagram. Get involved by using the hashtag #GlobalGoals on social media and visiting GlobalGoals.org. Visit the DWP Live blog to watch the full video.
About 59 Productions: 59 Productions is the multi-award winning company of artists behind the video design of the Opening Ceremony of the London 2012 Olympic Games, the record-breaking David Bowie is exhibition, the Tony Award-winning production of An American in Paris currently running on Broadway and the opening event of the 2015 Edinburgh International Festival, The Harmonium Project. Led by Creative Directors Leo Warner, Mark Grimmer, Lysander Ashton, Richard Slaney and Ben Pearcy, 59 Productions is one of the world's leading companies specializing in video and projection design for stage and live events, combining technology and art to tell amazing stories. Whether creating stage productions, museum installations, live music performances, large-scale events or films, the team generates creative and technical ideas to help realize ambitious artistic projects. Since 2006, 59 Productions has mounted more than 120 productions across the world at venues including the National Theatre, Royal Court, Young Vic, Royal Opera House, English National Opera, New York's Metropolitan Opera as well as at theatre festivals in Salzburg, Berlin and Avignon.