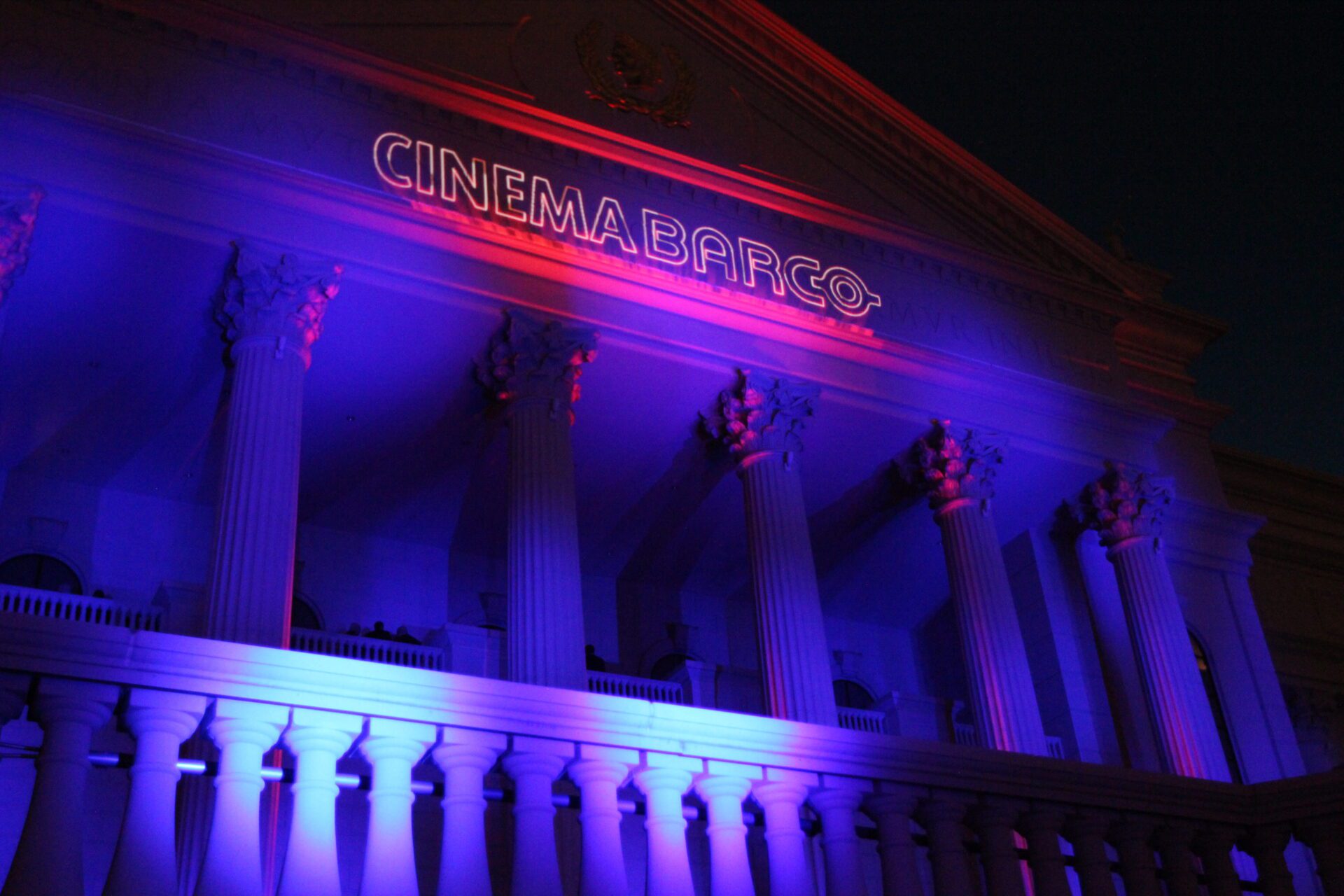 For the fifth year in a row, Barco partnered with event production company, DWP LIVE, to produce a projection mapping piece for CinemaCon 2016.
CinemaCon took place Monday, April 11 through Thursday, April 14 at Caesars Palace in Las Vegas. The event is the largest and most important gathering of movie theater owners from around the world, attracting over 5,000 industry professionals from more than 80 countries. The Belgium Beer Bar, an industry party hosted by Barco on Wednesday night, culminated with a projection mapping piece on Caesars Palace that looked brighter and sharper than ever before. "This was the fifth year that Barco invited us to do this project, and the challenge every year is to put out something that's going to be bigger and better than the year before," said Danny Whetstone, founder and president of DWP Live. "Since the event's guests are all members of the cinema business, they are extremely knowledgeable and savvy. To impress this type of audience, we need to put on something spectacular. It needs to be technically correct and larger than life."
Fivestone Studios created the content for the piece. In addition to handling the sound design and visual effects, the Nashville-based production company also composed a custom track for the show's finale. "It took our team of six animators and designers two months to develop the content for the 10-minute show," said Traylor Woodall, founder and executive creative director of Fivestone Studios. "Due to the large amount of character animation, we used motion capture technology to animate the Barco engineers." In addition to producing the projection mapping on Caesars Palace, DWP Live also provided gear and technical oversight for all aspects of the party. To execute the event, DWP Live used:
14 Barco HDF-W26 projectors " 6 of the projectors were outfitted with Barco's newest, exclusive short zoom lens TLD+ Ultra (0.8-1.16:1 WUXGA)

2 d3 Technologies

4x4pro

media servers equipped with Video Format Conversion (VFC) output cards

2 High End Systems MMS-100s

12 High End Systems

ShapeShifters

10 High End Systems Showguns
"The VFC cards in the d3 media servers allowed us to run the entire show from a single box with a backup machine running in tandem, as opposed to previous years, when we ran the show from four or more machines," said Clay Tipton, DWP Live's department head of media servers.
"We were able to add a number of Barco technical elements to the party as well as some live elements, such as a DJ and four Barco "future girl" themed dancers, to make it more of an experience. The High End Systems lighting fixtures were the perfect complement for the projection  mapping piece," Whetstone said. CinemaCon is the official convention of The National Association of Theatre Owners. It offers new trailers, film footage, product presentations, seminars, a trade show and the Big Screen Achievement Awards show that highlights today's top filmmakers and actors. Representatives from every major studio " Disney, Fox, Lionsgate, Paramount, Sony, Universal, Warner Bros., STX Entertainment and Amazon Studios " attend as well as some of Hollywood's top stars, including Susan Sarandon, Zac Efron, Anna Kendrick, Adam DeVine and Keanu Reeves. CinemaCon 2017 will take place March 27-30. Read PLSN's CinemaCon story on DWP Live here.