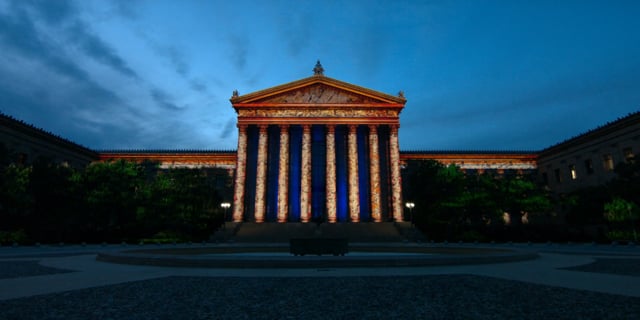 Client: BARTKRESA design
Content Creation: BARTKRESA design
Projection and Mapping: DWP LivePhiladelphia, PA | Philadelphia Museum of Art
Year: 2015
On September 26, 2015 Pope Francis visited the City of Brotherly Love. DWP Live's video production team was there to provide the equipment and expertise needed to deliver a projection mapping show that formed the backdrop of Saturday's World Meeting of Families.
DWP Live used (12) Barco HDF W30 and (12) Barco HDQ 2k40 projectors, collectively generating 840,000 lumens, and was projected across the Philadelphia Museum of Art.
Santa Monica, California-based production mapping studio BARTKRESA design " who produced the content and provided the media servers for the projection mapping project " hired DWP Live to project the show. Philadelphia-based event production company, ESM Productions, organized the event, which included more than 100 vendors, 500 theater lights and miles of wiring.
Part of the World Meeting of Families, the Festival of Families was broadcast live and attended by over 1 million festival-goers. Oversaw by the pope, the event was billed as an international celebration of family, community and faith and featured a concert by Andrea Bocelli and other pop stars.
Video provided by BARTKRESA design.