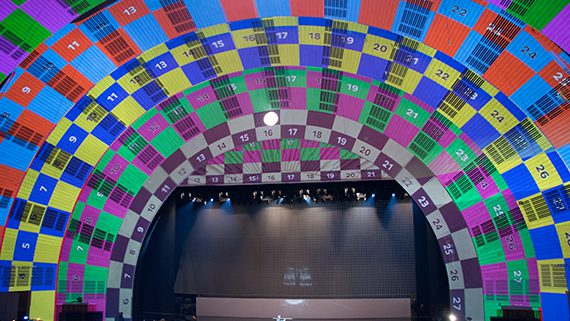 CONTENT CREATION:

Treatment Visual Productions

PROJECTION AND MAPPING:

DWP LIVE

LOCATION:

NYC | Radio City Music Hall
Wrapping up 2015 in the national spotlight once again, video production company, DWP Live, was called on to execute a projection mapping piece for Adele Live in New York City, a one-night-only show at Radio City Music Hall, which aired on NBC December 14, 2015.
DWP Live used 21 Barco HDF-W30 projectors, six Barco HDX-W20 projectors, two d3 4x4pro VFC-equipped servers and one backup d3 4x4pro VFC-equipped server to map four ceiling arches, the proscenium and the stage of Radio City Music Hall. DWP Live fed all the content to the in-house LED screen upstage, and also projected onto a 90-foot-wide scrim in front of the LED for a really cool effect.