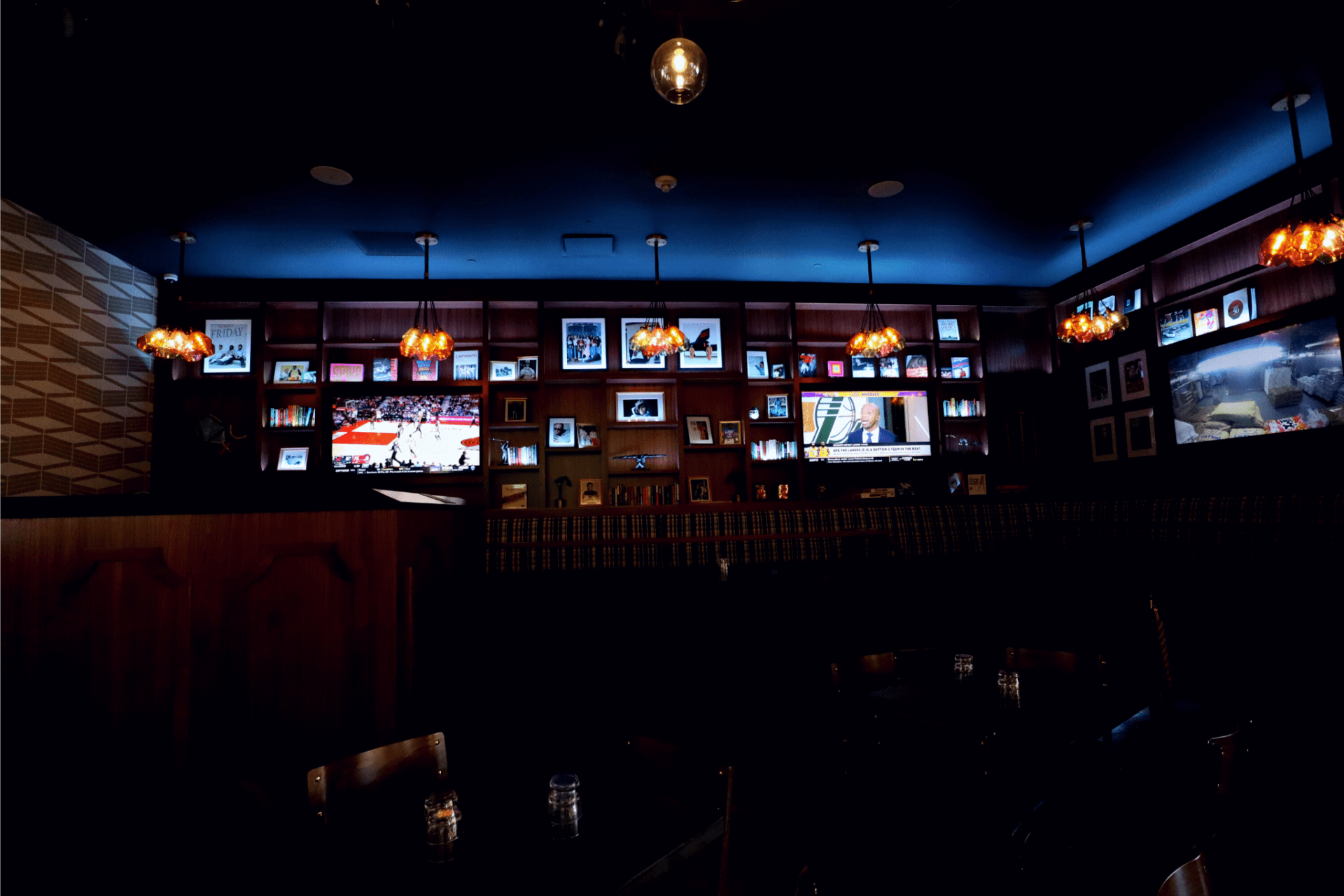 DWP Live was engaged to design and install the audio-visual components support for the hotel's new Almost Friday Sporting Club in the Holiday Inn and Suites 4th & Peabody Nashville location. The installation included a large high resolution LED Wall, two quad video matrix displays, sound system, LED intelligent lights, Laser Projector, IP based control system and multiple professional televisions. The club combines the fun of an early 2000's house party with the energy of a Super Bowl watch party complete with live DJs, dance floor, arcade, bar food, beer, cocktails and oversized TV screens for guests to enjoy their' favorite sporting matches.
Project Background
As the first physical restaurant concept by Almost Friday Media, the brains behind popular Instagram accounts @friday.beers and @almost.friday, the Sporting Club takes online comradery into real life. To effectively translate their Instagram popularity into a sports bar at the Holiday Inn and Suites with a "house party atmosphere," DWP Live installed an LED wall, monitors and extensive sound and lighting throughout the 5,500-square-foot space.
Our Approach
Almost Friday serves as a space to escape and watch sports, play bar games, listen to live music and dance or sit back and hang out with friends. To translate Almost Friday's online presence into a brick-and-mortar entertainment space for over 150 guests, we put our integration expertise to work and harnessed our strong partnerships with Pioneer DJ, Pioneer Pro Audio, Epson America Inc., Barco, INFiLED and BluStream to procure the highest quality gear to bring the vision for the space to life.
With the help of our partners, we established an intricate infrastructure to link the LED panels for the dance floor, lighting and monitors into one streamlined system. Matrixing capabilities allow for complete control of the technology, including 19 total destinations, 17 direct TV feeds, Apple TV and a DJ feed throughout the space from a single iPad. We also conducted employee training to ensure the staff can put any game on any monitor to best accommodate guests in both VIP areas and community spaces.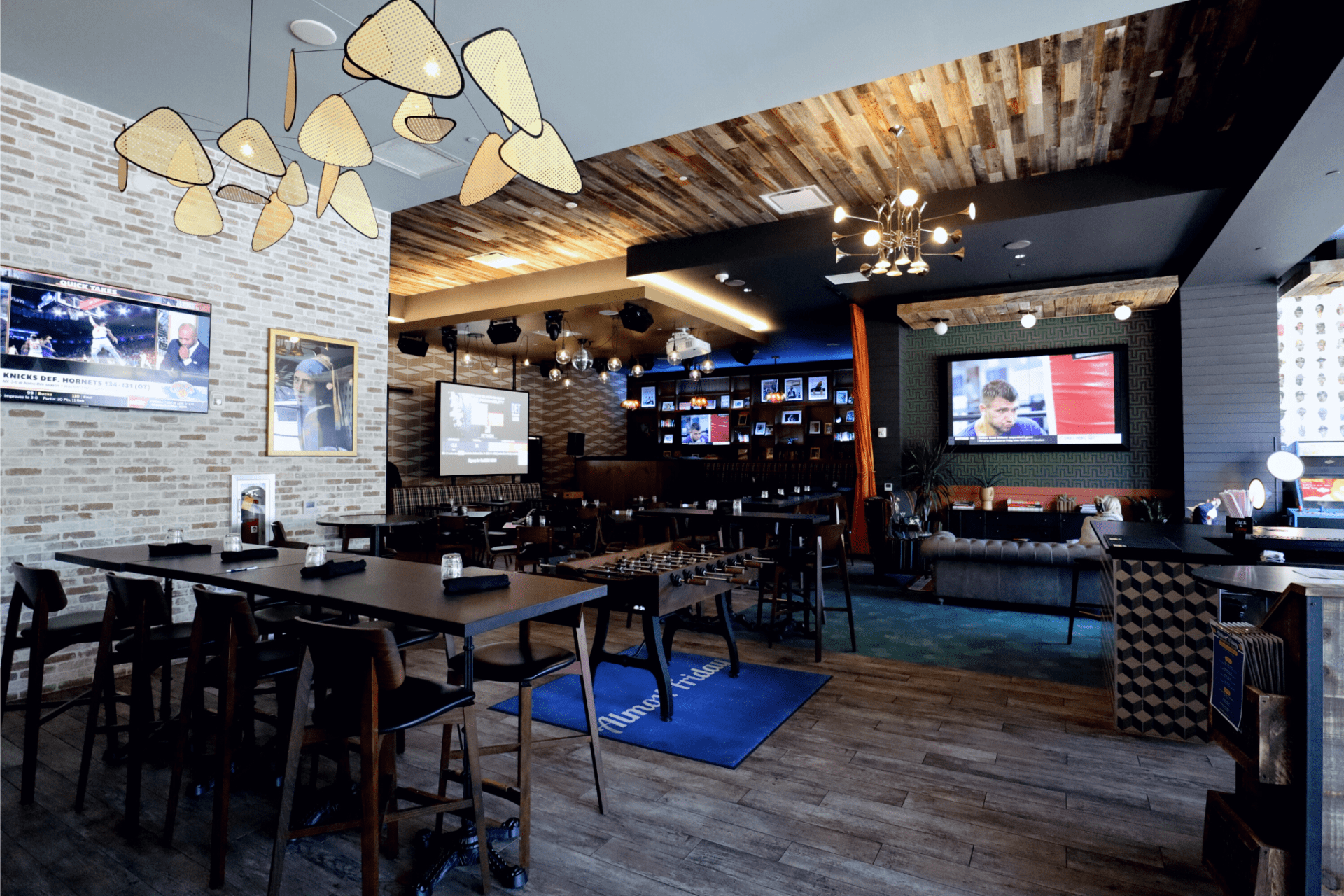 Project Requirements:
AUDIO
28 Pioneer CM Series 70v Speaker
8 Pioneer Pro Audio XY Series speakers and subwoofers
4 Linea Research Amplifiers 44C20
1 Lea Connect 704 Amplifier
2 Pioneer CDJ-3000 DJ Media Player
1 Pioneer DJM-900 Professional DJ Mixer
2 Shure ULX-D Wireless Mic Systems
2 DBX ZonePro 1260 Series Processor
VIDEO
18 Samsung Professional Television Monitors
2 Barco Unisee 2×2 Video Matrix Wall
1 Infiled 1.87mm WP Series Video Wall
1 EPSON High Brightness EB-PU2113W 13,000 Lumen Laser Projector
1 BlueStream Contractor Series Video over IP system with 18 Transmitters and 24 Receivers
1 Apple Ipad for system control
16 DirecTV Satellite Receivers
Dance Floor Lighting
4 American DJ Focus Spot LED Moving Heads
Impact created
Creating the fun and lively atmosphere at Almost Friday and the Holiday Inn and Suites allowed us to showcase our deep knowledge and passion for integrations in a variety of unique spaces. Lighting and AV help turn this venue into a destination for anyone wanting to experience the intersection of sports and music, escape the everyday and find that "Almost Friday" feeling. We are excited to see how guests enjoy the space and look forward to bringing our integration expertise to more projects in Nashville and beyond.