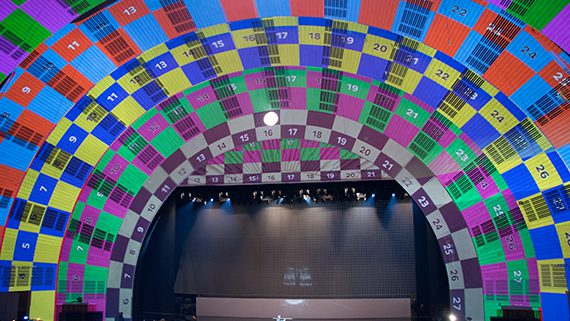 With preparation and resourcefulness,
DWP Live team pulls off a project that others said couldn't be done.
________________________
Wrapping up 2015 in the national spotlight once again, video production company, DWP Live, was called on to execute a projection mapping piece for Adele Live in New York City, a one-night-only show at Radio City Music Hall, which aired on NBC December 14, 2015.
Over 11 million people watched Adele Live in New York City and the special averaged a 3.0 rating among adults 18-49, which is the highest rating among adults for a primetime concert special since the 2005 Eagles Farewell Tour. "The event's extremely short timeline and design installation made it a very challenging project " all the moving parts had to come together and look incredible in less than a day. I know that some in the industry said that it couldn't be done, but our team of experts were well prepared to overcome this monumental challenge. It's our people and their thoughtful preparation that made the difference," said Danny Whetstone, president of DWP Live. "Adele's performance gave me chills. We were grateful for the opportunity to work with NBC and support Adele's stunning performance through the art of projection mapping." DWP Live used 21 Barco HDF-W30 projectors, six Barco HDX-W20 projectors, two d3 4x4pro VFC-equipped servers and one backup d3 4x4pro VFC-equipped server to map four ceiling arches, the proscenium and the stage of Radio City Music Hall. DWP Live fed all the content to the in-house LED screen upstage, and also projected onto a 90-foot-wide scrim in front of the LED for a really cool effect.
"Our media servers are equipped with the newly designed Video Format Conversion (VFC) output cards, each d3 box can output 16 HD feeds, which means that every single projector had its own video feed for this show. The VFC cards let us deliver large, multi-projector shows like this one with fewer machines and no downstream splitter devices, which reduces the cost and complexity of the set-up," said Ben Ryle, chief technology officer of DWP Live. A 10-time Grammy Award-winning singer, Adele performed eight songs during the one-hour television special, including four from her third studio album, 25, which she released in October 2015. The album sold 3.38 million copies in its first week of release, marking the best one-week sales since Nielsen started tracking sales in 1991. The show was hosted by Jimmy Fallon, directed by Beth McCarthy-Miller and executive produced by Lorne Michaels. Some of Hollywood's top stars were in attendance, including Jennifer Lawrence, Bradley Cooper, Emma Stone, Daniel Day Lewis and Jon Hamm."