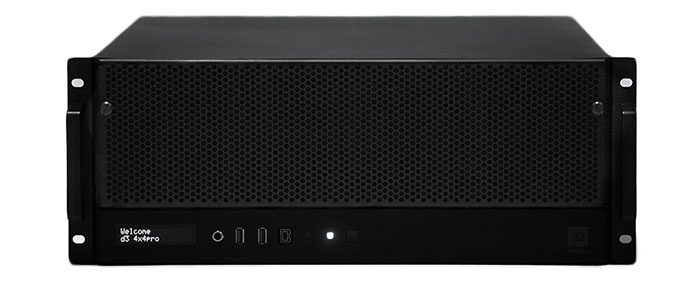 Introducing the New d3 4x4pro Media Server
Our friends at d3 have outdone themselves with the new flagship of their d3 pro range: the d3 4x4pro. This powerful new media server is extremely fast, highly adaptable and makes projection mapping a breeze. The workflow allows multiple users to prep the same show simultaneously in a 3D environment"handling content, programming, projection, warping and rehearsals at the same time versus on a linear timeline. The result? Time to completion is drastically reduced, saving you time and money.
One server, big results The d3 4x4pro boasts four 4K outputs (and soon 16 HD outputs), replacing four conventional media servers with one piece. Right there you've reduced cost, set-up time and rack space. It handles up to 32 HD layers of DXV/HAP content and can play up to eight HD layers of lossless QuickTime Animation. The 4x4pro also increases inputs to four channels of 3G-SDI (up to 1080p@30) or two channels of 3G-SDI (up to 1080p@60) compared to its little brother. Replaceable VFC cards The trailblazing 4x4pro will offer replaceable video format conversion cards to handle the most complex shows today and in years to come. This adaptable server currently features 4 x DisplayPort 1.2 (4096 x 2160 max) native outputs, with DP/HDMI/DVI, quad DVI and quad 3G-SDI VFC cards becoming available Q1 2015. From HD to 4K to new signal standards coming down the pipe, d3's newest offering is prepared to handle all of it. We love these guys. Ultimate convenience With twin 10Gbit/sec ethernet connections, the 4x4pro transfers huge media files in minutes rather than hours. (We also love a timesaver.) What's more, it handles in minutes those unexpected onsite adjustments and output changes that can cost hours of set-up time. Built to map d3 servers are designed for content mapping, with entire workflows built in 3D and features that allow you to easily map onto, well, basically anything. The 4x4pro takes the d3 mapping experience to the next level. Check out the tech specs and manual here. Ready to assist We hosted Chris Simcock of d3 for a training session recently, and are ready to help you leverage the 4x4pro. Call us at 615-355-8687 with questions or to get a quote, or email us at info@dwprents.com.