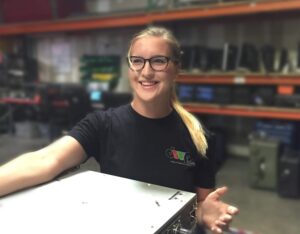 VIP Live is our way of letting you behind the rope – a meet-n-greet with no lines.
This week we feature Corinne Wolowicz, EIC/Shop QC,
who has been keeping order in the DWP Live warehouse since May 2014.
  TOP 10+1
Favorite Line from a movie: "It is our choices, Harry, that show what we truly are, far more than our abilities." Chamber of Secrets
Weirdest habit: Meowing!
Movie character you identify with: Rey from Star Wars
Favorite musician: Kendrick Lamar
What always makes you laugh? The Office
What makes you gag? Any pork product
Nerdiest thing you do: Play Pokémon Go in all my free time
What superpower would you possess? Telekinesis! Wrapping cable would be so easy.
Favorite vacation destination: I like traveling too much to visit the same place twice.
Favorite part of your job: I get to do something different all the time!
+1   NASHVILLE FAVORITE RESTAURANT: Rosepepper Cantina