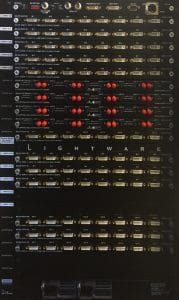 We are very excited to add another great piece of equipment for our clients and our live events. The Lightware MX-FR80R adds another level of flexibility and quality to our inventory.
Currently, the frame is loaded as a 65 X 65 matrix with future expansion capacity to be loaded as 80 X 80. The Inputs are DVI and the outputs are a mix of ST Fiber and DVI. The ST Fiber outputs tie into the Fiber feed also available in the rental fleet. "DWP Rents selected Lightware based on the flexibility and reliability of their products. We have immediate needs that this new product will fulfill and it can be adapted for future needs." says Danny Whetstone, Founder and President of DWP Live.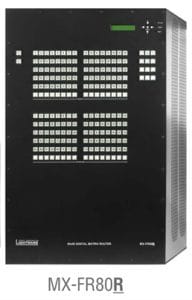 The router configuration is designed to work best with multiple video server and computer input sources – feeding a mix of local monitors and large format displays significant distance from the router. These displays are typically Projectors and LED walls.   Let our expert team help you design the best configuration for your needs.
Please contact Matthew Rampulla at DWP Rents for additional information and rental rates on this product as well as the entire fleet of products available.