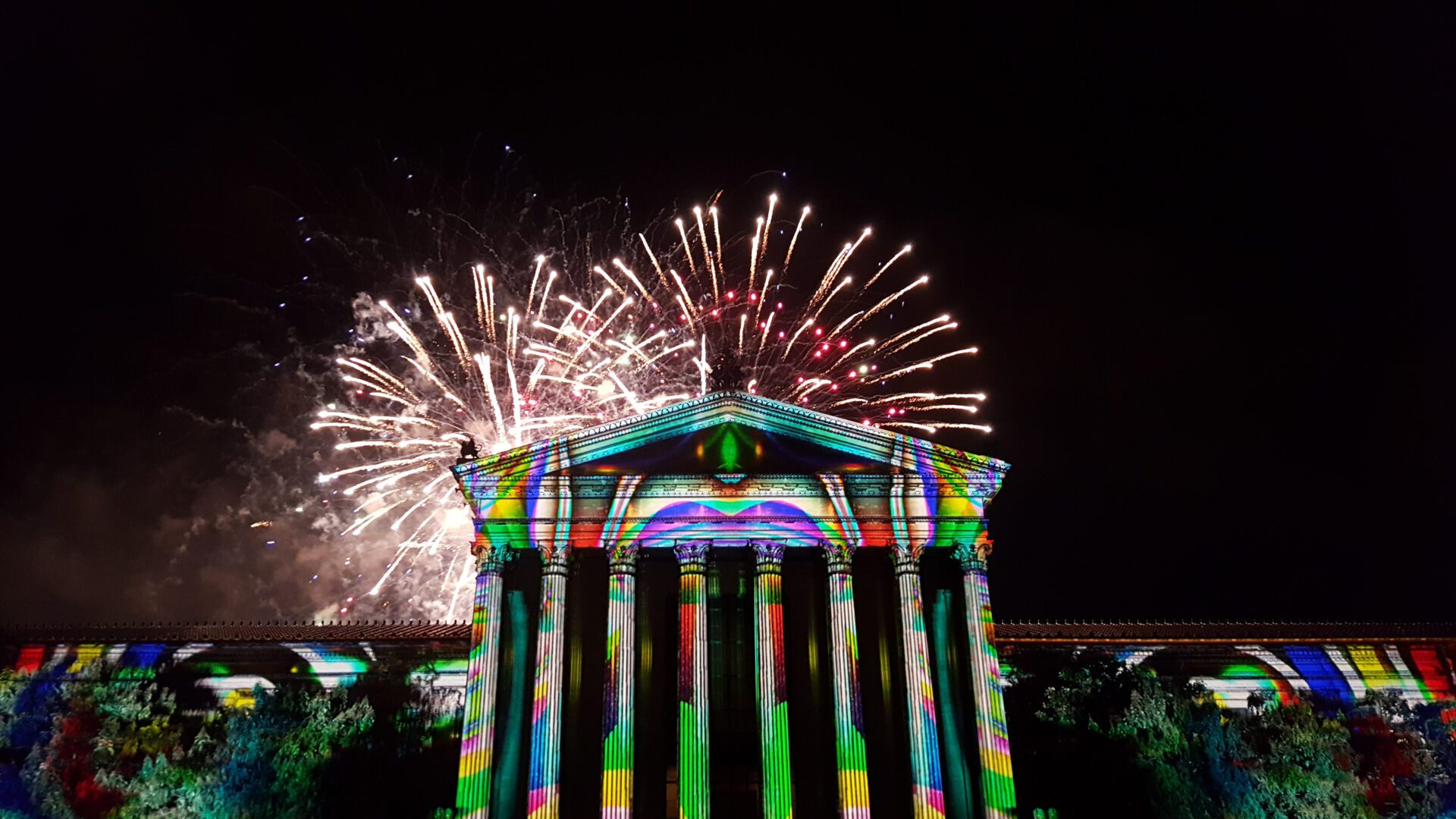 DWP Live's Video Production Equipment Lights Up Papal Visit to Philadelphia
Projecting 840,000 lumens bright, the Festival of Families' projection mapping backdrop transforms Philadelphia Museum of Art into its own art piece
---
When Pope Francis visited the City of Brotherly Love last weekend, DWP Live's video production team was there to provide the equipment and expertise needed to deliver a projection mapping show that formed the backdrop of Saturday's Festival of Families.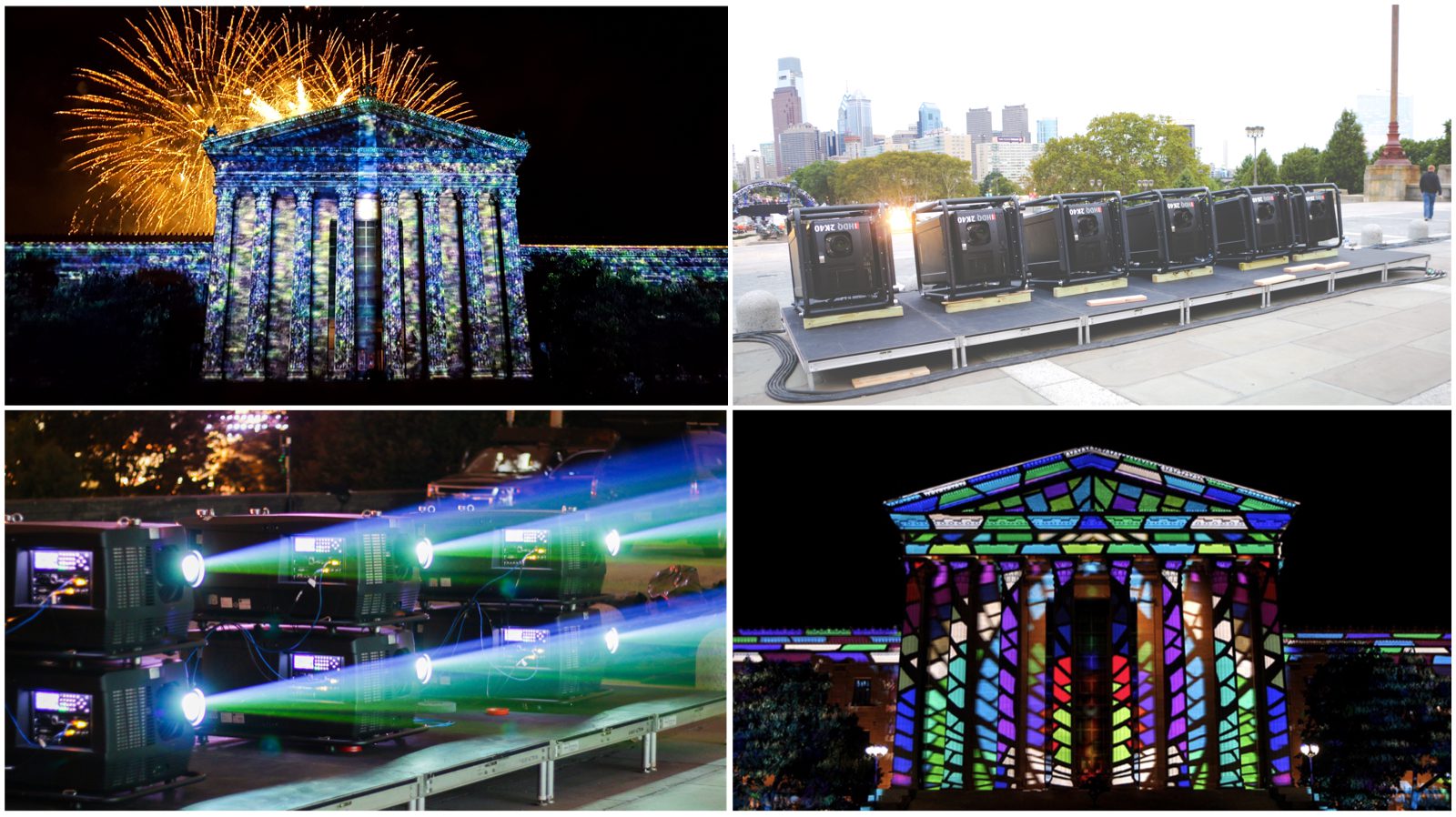 DWP Live used (12) Barco HDF W30 and (12) Barco HDQ 2k40 projectors, collectively generating 840,000 lumens, and was projected across the Philadelphia Museum of Art. DWP Live is a Middle Tennessee-based video production and projection mapping company that owns one of North America's largest inventories of media servers and projectors. Part of the World Meeting of Families, the Festival of Families was broadcast live and attended by over 1 million festival-goers. Oversaw by the pope, the event was billed as an international celebration of family, community and faith and featured a concert by Andrea Bocelli and other pop stars. Santa Monica, California-based production mapping studio BARTKRESA design " who produced the content and provided the media servers for the projection mapping project " hired DWP Live to project the show. Philadelphia-based event production company, ESM Productions, organized the event, which included more than 100 vendors, 500 theater lights and miles of wiring.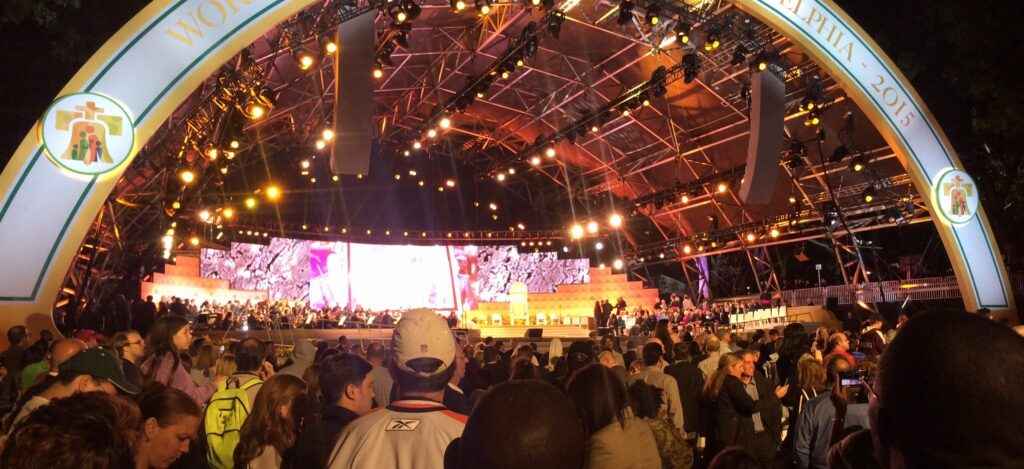 "Working within an extremely short timeline of 12 days, our team put all the gear together and overcame some very real logistical challenges, including transportation in a city that was practically shut down and the tightest security I've ever seen " and that includes past presidential events I've done," said DWP Live President Danny Whetstone. "Our team pulled off a tremendous feat, projecting a bright, beautiful show that looked fantastic live, in wide-angle television broadcast reports and camera shots."
The Festival of Families included two days of speeches, celebrations and communion. Following Saturday's spectacle, the stage was turned into a sanctuary for a Sunday papal mass.
In addition to the Philadelphia papal event last week, DWP Live experts were on hand 100 miles away in New York City to project a 10-minute animated show, which was used to help introduce the United Nations' Global Goals for Sustainable Development.
The weeklong UN celebration and humanitarian awareness campaign featured a projection mapping piece on the north tower and general assembly wall of the UN's New York City headquarters. The piece used DWP Live's d3 4×4 Pro VFC-equipped media servers and 16 Barco HDF W30 and 20 Barco HDX W20 projectors, and was filmed and used as part of Saturday's
Global Citizen Festival
in Central Park.
# # #
About DWP Live: DWP Live boasts projection mapping, video projection and related technology rentals. Founded in 2007 by Danny Whetstone, a 20-year industry veteran, DWP Live is headquartered in Smyrna, Tennessee and maintains an office in Los Angeles. DWP Live's expert team of programmers, engineers, producers, projectionists and technicians have produced shows all over the globe including the halftime show for the 2012 Super Bowl and Beyonce's "I Was Here" music video at the United Nations' General Assembly Hall for World Humanitarian Day. Learn more at DWPLive.com, or follow the company on  Facebook, Twitter and  LinkedIn.   About BARTKRESA design: BARTKRESA design (bartkresa.com) is a premiere projection mapping studio, specializing in developing one-of-a-kind projection solutions throughout the world. By combining timeless artistry, industry-leading projectors and adhering to the highest technical standards, BARTKRESA design develops brilliantly immersive projection environments that give rise to amazing large-scale augmented realities. The studio is led by Bart Kresa, founder and master projection designer with over 20 years of industry experience and unparalleled expertise in developing engaging projection experiences. Together with design teams from Japan and Poland, their projection experiences have earned top awards from the International Association of Amusement Parks and Attractions. BKD's clients include Universal Studios, Disney, ABC, HBO, Fox Entertainment Group, General Motors, Warner Bros. Studios, T-Mobile, The Grammy Awards, and Oprah Winfrey, among many others. Visit BKD on Facebook, Twitter and Instagram.